Shopping List
2 Medium Size Storage Boxes (Home Depot has these for $.69 each)
50 Sheets of Dish Foam (Home Depot has a roll for $6.97)
1000 Feet Stretch Wrap (Home Depot has this for $4.97, 1000ft is the smallest size)
Packing Tape (Home Depot has this for $3.37 for a large roll, you only need 3ft of tape for 4 wheels)
1 Razor Blade with 3 replaceable blades ($1.98 @ Home Depot)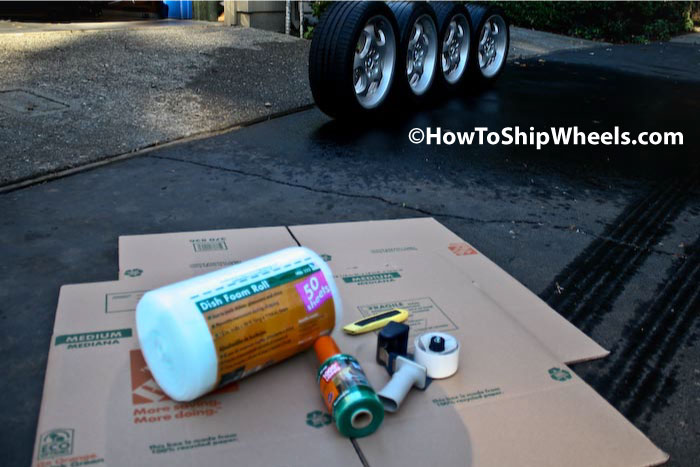 Step 1
Lay Medium Sized box out flat
Cut Box in Half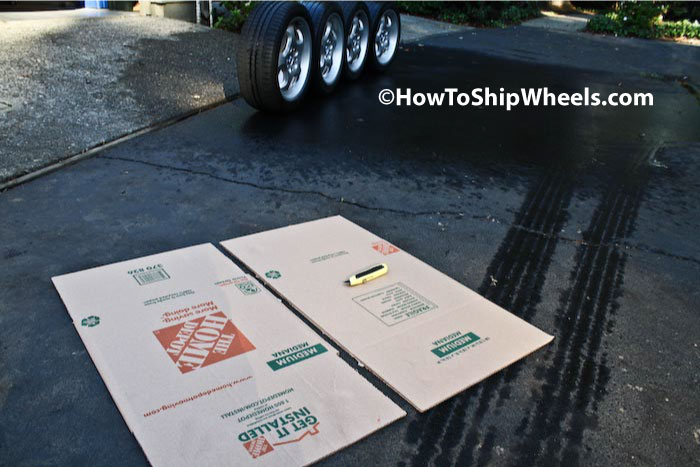 Step 2
Open up box after cutting in half
Lay cleaned wheel on top
Cut excess material away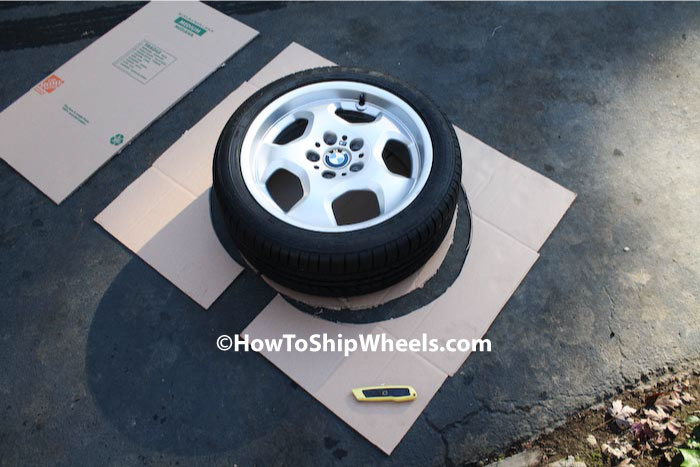 Step 3
Place at least 2 sheets of dish foam on face of wheel
Tape dish foam to tire so it doesn't move around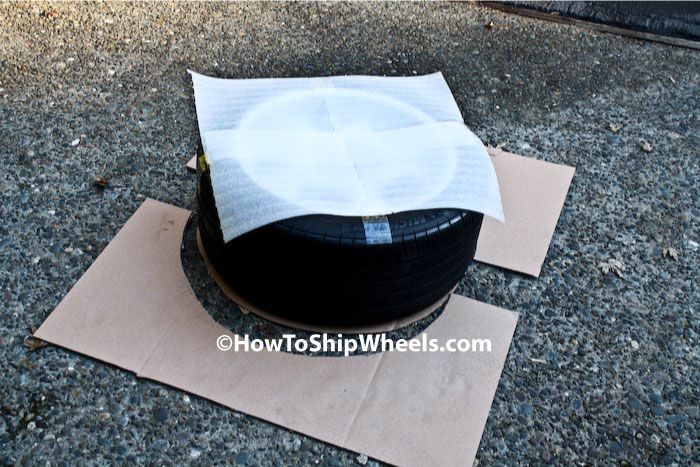 Step 4
Secure large circular piece of cardboard over dish wrap to the face of the wheel
Cut excess material into partitions that will be used for back of wheel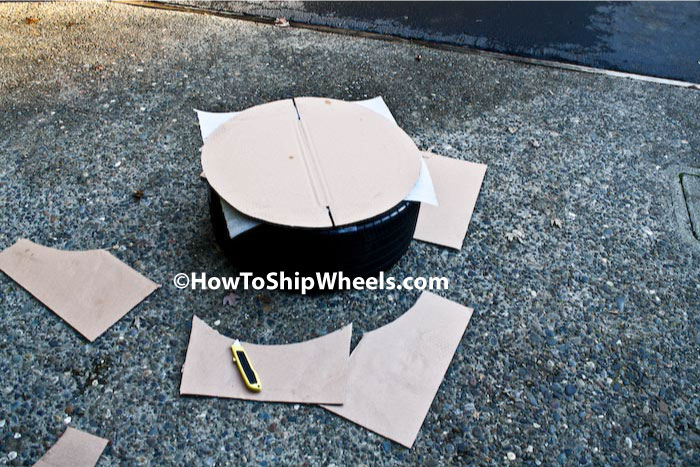 Step 5
Use packing tape to secure partitions in place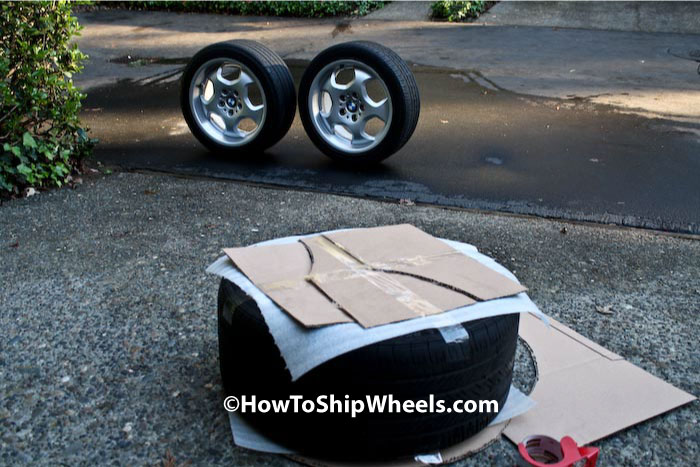 Step 6
Use 100% recyclable packing wrap to wrap the wheels and tires in any motion (Rocking the wheel back and forth works well)
The tighter the packing wrap, the more secure & protected the wheel will be in transit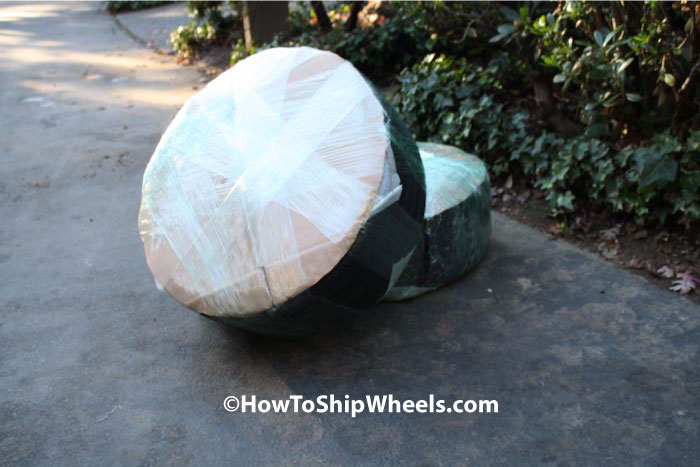 Step 7
Repeat 4 times
Check out ShipNex Worldwide Express for cost effective shipping rates.
Print shipping labels from ShipNex
Attach to wheels & tires (not pictured)
Request pick up for ~ $6, or take down to local UPS store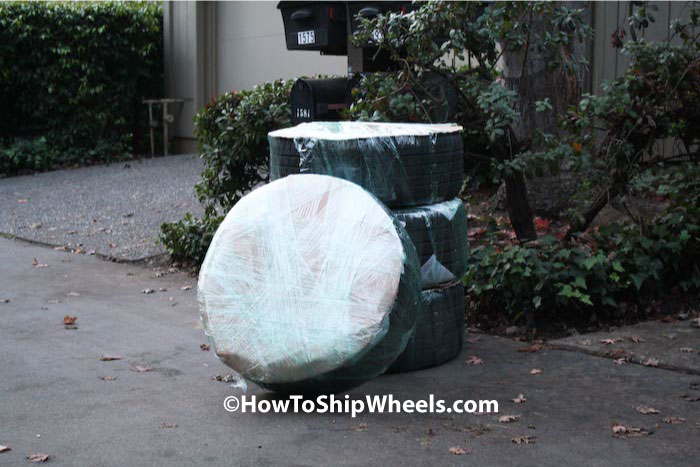 Step 8
Share with others, avoid high shipping costs from store front retailers & try ShipNex!
Notes:
ShipNex can offer the most cost effective solutions to your shipping needs, because of the wholesale rates available and contracts they hold with FedEx & UPS.
ShipNex uses FedEx for Express Shipments & UPS for any Ground Shipments.
When I compared prices to ship a set of wheels & tires (18 x 8.5 w/ 235/35/18 tyres ~210lbs) I was quoted $416 via UPS, $376 via USPS, $308 via FedEx, and $206 via ShipNex to ship from the West Coast to the East Coast.
I hope the instructions above helped you with packaging your wheels or rims with tires